Blog »
REI's Guide for Choosing Insulated Outerwear
Remember when you were a kid and the idea of suiting-up for the cold meant that mom told you to layer. Back then though, each layer upon layer was so bulky you wound up with your arms stuck 90-degrees out to your sides. Not exactly performance-oriented for winter sports is it?
Outdoor technical apparel has come a long way from that point, but the longstanding misconception that thickness = warmth still exists. REI just added to their expert advice columns a guide, "How to Choose Insulated Outerwear" to clear things up.
Layering for Efficient Warmth
It all breaks down to this. You're going to need three layers in the winter - a breathable base layer, an insulation layer, and a weather-resistant outer layer. The insulation layer is where PrimaLoft comes in. Some key takeaways from the REI guide about insulation are that:
-Bulk does NOT equate to warmth in outdoor apparel anymore
-PrimaLoft is your best bet when there will be wet conditions, including melting snow
-The warmth of PrimaLoft one when dry is equivalent to 500-550 fill-power down
-PrimaLoft One has the highest CLO value (warmth value) of any synthetic insulation available
There are really three ways to insulate yourself when the mercury drops: down, synthetic, and fleece. Fleece works for a cool fall day, but that's about as far as it goes - it is unable to handle extensive cold and is not very compressible. For the really cold stuff or to pack light, you're going to need to go down or synthetic. PrimaLoft is the leading synthetic insulation on the market, and is truly the only type of synthetic insulation available that mimics the properties of down. It is as lightweight and compressible, and goes one better than down by retaining its thermal properties when wet.
The Science Behind PrimaLoft
What allows PrimaLoft to mimic down better than other synthetic insulations? REI streered the conversation towards some technical talk with PrimaLoft's own Vanessa Mason to find out why. Vanessa is an expert - not only is she director of global business development for PrimaLoft, she recieved her master's degree in chemical engineering with a focus on polymer sciences and materials. If you want to know the science behind PrimaLoft, she's the person to talk to. Highlights from the interview include:
Q: PrimaLoft has a good reputation among retailers and in the outdoor media. Yet some shoppers have second thoughts about PrimaLoft because of its relatively thin appearance compared to puffy down jackets. Should they be concerned?
A: That's something people in this industry are educated about—thickness does not necessarily equate to warmth. But it's difficult for some consumers to see that picture. Why does PrimaLoft work? Because it has an extreme microfiber structure. Think of a funnel. With PrimaLoft, you can fit greater number of smaller fibers in that funnel than you can with larger fibers (typical of older synthetic insulations). We just trap more air spaces, so we don't need as much volume to trap as much air.
Q: Is PrimaLoft close to being the equivalent of down?
A: You can get anywhere from 450-fill-power down to 900-fill-power down. Look at pinnacle (superior) down products—900 at the top of the pyramid, 450 and 500 along the bottom. Then look at the pinnacle synthetics, and PrimaLoft One is the best synthetic insulation you can buy. The pinnacle synthetic only crosses over to the down chart near the bottom end of the down pyramid. We usually equate PrimaLoft One as the equivalent of down in the 500 to 550 range. You could not replace a 900-fill-power down garment with PrimaLoft One and expect to get the same performance in dry conditions. However, wet down doesn't even come close to the bottom end of the synthetic pyramid in regard to thermal performance. As soon as you get down wet, you lose a lot of its thermal properties.
(Source: REI)
The Curious CLO-Value
Chances are, as a consumer, you've never heard of a CLO-value. Believed not to be an acronym but simply a truncated version of the word "clothing," CLO values were hatched in the 1940s and still used to gauge the effectiveness of insulated garments today.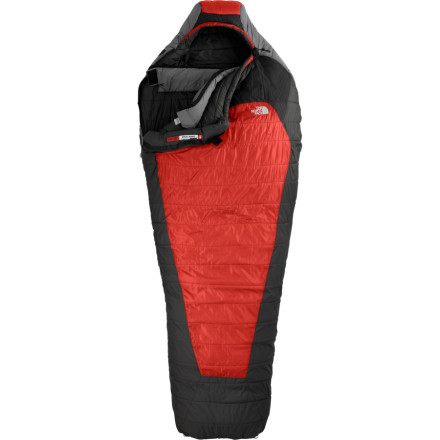 The CLO benchmark is 1.0, considered to be the amount of clothing necessary for an inactive human to feel comfortable at room temperature, which is considered to be 21C, or roughly 71F.
How much clothing is that? A fully dressed men's business suit, of all things: shirt, tee, pants, jacket, socks, shoes. (Interestingly, the fabric of the suit was never mandated—just "a business suit.") Consumers rarely see CLO numbers referenced on promotional materials.
(Source: REI)
Well guess what? PrimaLoft One has a CLO value of 0.92, meaning that you'll feel just about as warm as a businessman in a 71-degree room - the highest CLO value of any synthetic insulation. When wet, it drops to just 0.90, keeping its thermal properties
There's good reason that outdoor enthusiasts will prefer PrimaLoft synthetic insulation over down - whether you ski, board, hike, climb, hunt, or just want to be prepared - you'll always be equipped for the weather, no matter what.
You may also like…
Find the perfect winter coat for everyone on your holiday shopping list
Selecting the perfect gift for everyone on your list can be a challenge. The choices are seemingly endless,…
read more »
REI CEO, Sally Jewell, speaks to popularity of PrimaLoft filled REI products
In a conversation with Forbes' Monte Burke, Sally Jewell, the CEO of REI, explained that alongside FiveFinger shoes…
read more »
Downlite and PrimaLoft team up for Better Sleep Month
May is Better Sleep Month, and PrimaLoft and Downlite have teamed up for an integrated marketing campaign raising…
read more »